Reminder: for The Weeknd concert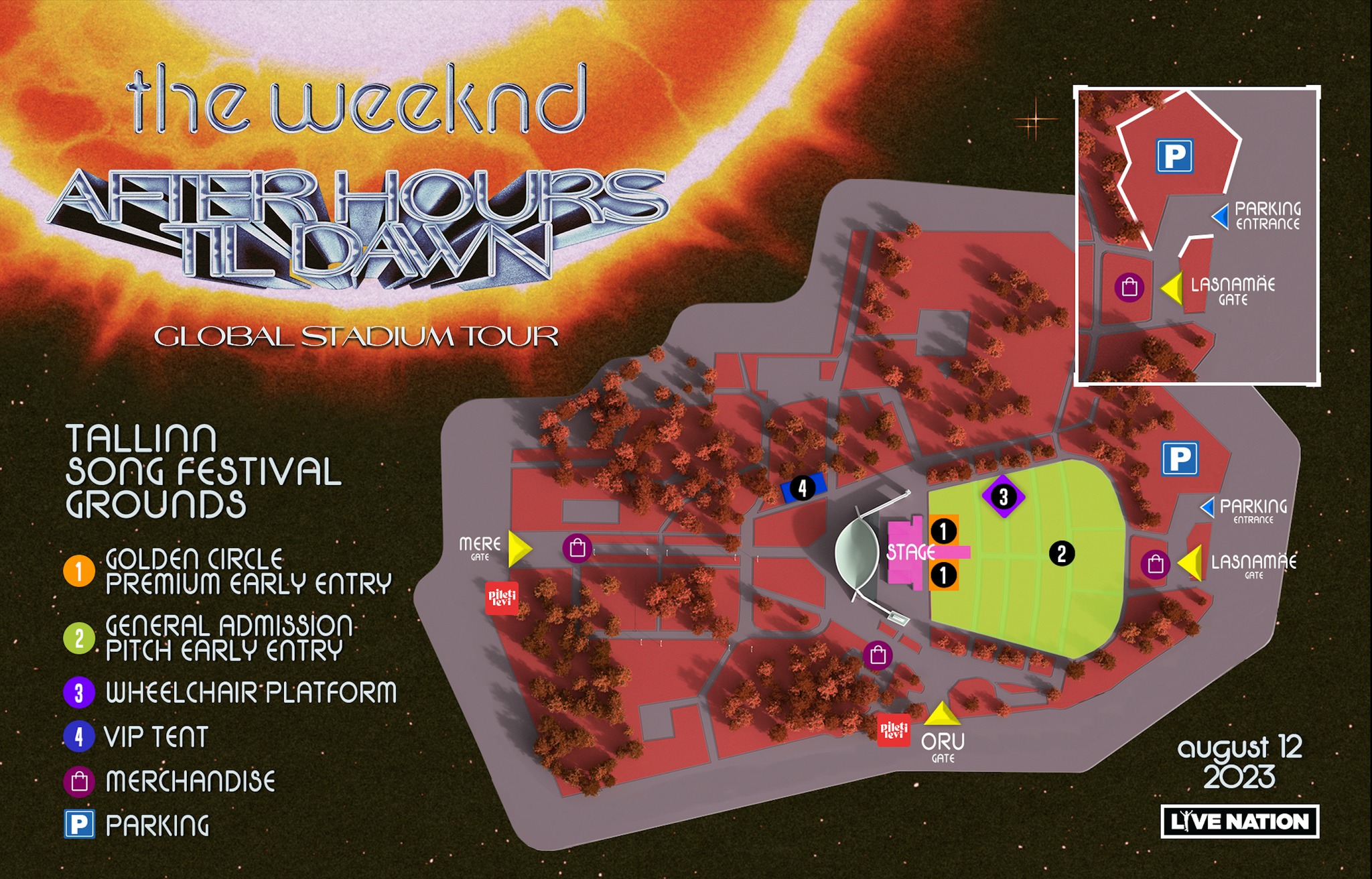 Already this Saturday, August 12, one of the hottest artists of the moment will perform at Tallinn Lauluväljak / Tallinn Song Festival Grounds. In order for The Weeknd's concert to go smoothly, we ask all visitors to familiarize themselves with the rules of procedure, traffic regulations and arrive as early as possible to avoid crowding.
 
SCHEDULE
14:00 Mere area opened
16:00 Gates
19:15 Mike Dean
20:00 Kaytranada 
21:30 The Weeknd
23:30 Approximate end time of the concert
 
The concert can be observed from the side of the slope of Tallinn Song Festival Grounds, i.e. the stage is built with its back to the singing arch. The floor plan of the concert with gate locations can be found HERE. Also, each gate has large instructional subplots.
 
TICKETS
Access to the concert is granted with a ticket/wristband purchased in advance from pre-sale and its presence will be checked at the gate.
- Security personnel have the right to conduct personal and bag inspections and check the visitor's age. Please bring your passport, ID card, or driver's license for identification.
- Children under the age of 3 are not allowed at the concert.
- Visitors under 10 years old are strongly recommended to use ear protection headphones.
- The security firm has the right to remove individuals from the concert premises who violate the rules, are visibly intoxicated, or engage in crowd surfing.
 
INFO
A short reminder of what not to bring to the concert and you have questions, find more detailed information here: https://www.livenation.ee/en/tw-sisekorraeeskiri
 
LUGGAGE STORAGE
At the Oru, Mere, and Mäe entrances, there is a paid luggage storage service available (large bags, backpacks, suitcases, etc., at an additional fee). Luggage storage will be closed 30 minutes after the event ends. Items not accepted: www.livenation.ee/pakihoid
 
REUSABLE CONTAINERS
According to the Tallinn City Council regulations, it is mandatory to use reusable containers at major events: www.livenation.ee/pandipakendid
 
TRAFFIC
Important Information for The Weeknd concert attendees and surrounding area residents: This Saturday, 55,000 people will be attending The Weeknd: After Hours til Dawn Tour concert. For safety and security reasons, the police will temporarily close traffic after the event, starting from 11:30 PM until the dispersal of the larger crowd, at the following locations:
- The intersection of Narva Maantee and Reidi Tee towards Pirita Tee and Narva Maantee;
- Pirita Tee in front of Lillepaviljon towards the city center;
- The intersection of Narva Maantee and Turba Street towards Pirita Tee. In addition to the temporary traffic closures, public transportation lines No. 1, 5, 8, 29, 34, 35, 51, 60, 63, and 66 will be rerouted after 11:30 PM as follows:
- Buses towards Pirita will travel via Kose Tee-Narva Maantee-Smuuli Tee and Laagna Tee;
- Buses towards Narva Maantee will travel via Narva Maantee-Smuuli Tee-Laagna Tee, with a temporary stop at the intersection of Narva Maantee and Smuuli Tee. We apologize for any inconveniences this may cause!
 
When coming to the concert:
- If you're using your own transportation, we recommend parking further away from the Song Festival Grounds.
- If possible, consider using alternative transportation such as scooters, taxis, or walking.
- We kindly ask all pedestrians and drivers to allocate extra time and follow the instructions of police officers and traffic controllers.
 
FREQUENTLY ASKED QUESTIONS
- Can you help me authenticate my secondary market ticket?
- What is the concert schedule?
- Is there a luggage storage?
Answers to all FAQ can be found here: https://www.livenation.ee/en/theweeknd-kkk
 
See you at the concert!